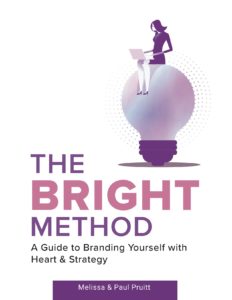 Here is what you do next:
1. Check your email inbox for an email from me. Double check your promotions folder in case you don't see it..you'll want to whitelist my email later for the future!
2. Then grab your FREE copy of my E-book,The Bright Method: A Guide to Branding Yourself With Heart & Strategy
 (Link to download is in the email)
3. Like my Facebook Page & Follow me on Instagram to keep the conversation going!
I am excited for you to take this next step on your business journey!
Please feel free to reach out to let me know how I can help you: melissa@paulpruitt.com
Shine Bright!
Melissa Pruitt